Moalajah Services takes care of a broad spectrum of cleaning activities related to water, waste-water, sewage, grease and sludge.
Potable water tank cleaning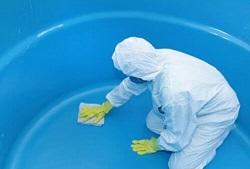 Critical to the health of building inhabitants, potable water tanks need periodical cleaning to avoid the accumulation of potentially harmful bacteria. All water tanks and associated pipelines must be regularly inspected, maintained, cleaned and disinfected in line with local regulations.
Our company is fully certified to conduct such special cleaning activities with the use of specific cleaning equipment, chemicals and staff with specific trainings (attach picture certificate…) to ensure delivery of service in a safe compliant manner. 
Cleaning of sewerage pumping stations, wet wells, sump pits, chambers and holding tanks
 
Sewerage network assets require periodic cleaning and inspection. With our specialised combination tanker and mini-combination (low height) truck – that performs vacuum suction and hydro-jetting with a 100% wastewater reuse – we benefit the overall environment with no use of any additional fresh water - and are able to access difficult locations (such as under-ground parking), very quickly and with no restrictions to size whatsoever. Our team is trained and certified to work in confined spaces.
Benefits: cleaning is mechanized (far superior to the manual cleaning). The mobilization and the delivery time of service are fast. Specialized equipment allows service and access to difficult locations. 

Cleaning of sewerage treatment plants, clarifiers, grid chambers, sludge tanks, TSE tanks, aeration tanks and grease tanks
If sewerage treatment plant (STP) assets are not regularly inspected and cleaned, debris and waste accumulation occur, leading to higher operating costs and the endangerment of the public health. With our specialised truck and teams trained and certified to work in confined spaces, we contribute to the environment's and public wellbeing.
Benefits
: proper cleaning of critical assets avoids over-flooding, public health risks and business interruptions.  
Cleaning of grease traps
As per local laws, the installation and maintenance of grease traps are mandatory for food processing companies such as restaurants, hotels and hospital kitchens. These establishments require a maintenance contract with a municipality-certified cleaning company, such as Moalajah, to be compliant.
Benefits
: avoid business interruptions and over-flooding due to blockages, ensures operational compliance with strict local regulations.  

Cleaning of irrigation pumping stations, wet wells, chambers and holding tanks
 
Irrigation systems require constant cleaning and inspection. Our teams are trained and certified to work in confined spaces, ensuring that no accumulation of waste and debris takes place., With our service, we can prevent any negative impact on the irrigation water quality that can lead to public health issues.
Benefits: prevents over-flooding and public health risks.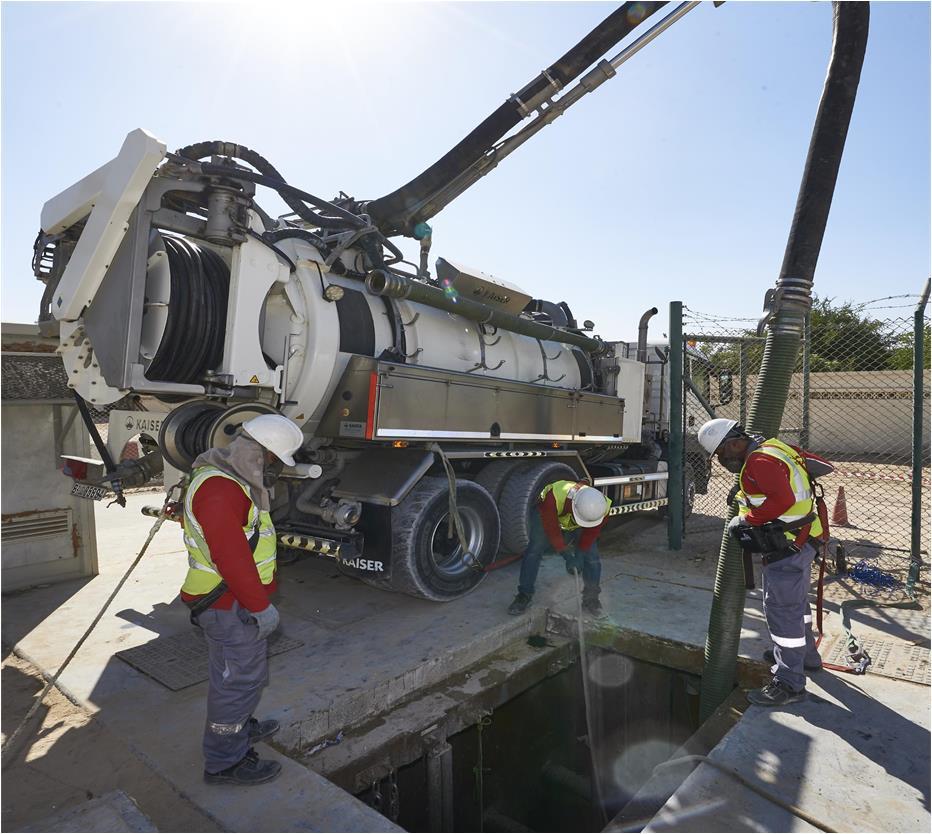 Hydro-jetting and cleaning of sewage and storm-water pipelines
Underground utilities such as sewer and storm water pipes require regular CCTV inspections, and a subsequent preventive cleaning schedule to avoid blockages that leads to flooding. Moalajah Services assist with the assessment of pipes, preventive maintenance scheduling and hydro-jetting.
Benefits: prevents blockages, over-flooding and public health risks.